Christmas Gifts for Teachers
Don't forget to add your childrens' teachers to your Christmas list this year! McKenna originally published this list last December. A few friends who are teachers told me that they do not like teacher themed ornaments. Also chocolate or coffee may not be a good idea, because you don't know their taste or they be diabetic. Gift cards may be the best gift. You can get them gift cards to Lakeshore for school supplies, to Target, or Barnes and Nobles. What are you planning on getting your teachers this year?
Original post by McKenna:

There are some very special people on our Christmas shopping list that are some of the hardest people to shop for!  Around this time every year, I panic trying to think of a good gift for my daughter's teachers and developmental therapists.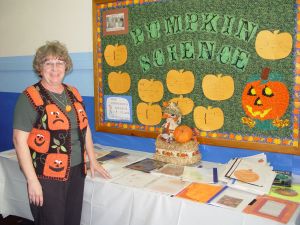 Here are some gift ideas I have come up with and I'd love to know what you will be giving to your child's teachers for Christmas.
Personalized Stationary or School Supplies

Note cards, notepads,  and pens that are either personalized with your teachers' name on it or hand decorated by your child.  Teachers also LOVE sharpies, apparently, as several of my teacher friends have said they get really excited when they buy new sharpie pens.  Who knew?
Personalized Aprons
A friend of mine has a monogram machine and suggested purchasing inexpensive aprons and monogramming the teachers' initials on them.
Group Gift
Get together with some of the other parents from your child's class to purchase a more expensive gift together.  You can get your teacher a spa gift certificate or a gift certificate to a teacher supply store!
Photo Memories

If you're handy with a camera, take pictures of the children in the class, arrange the pictures in an album,  and have each child sign their name by their picture.
A Special Ornament
Have your child decorate or pick out a special ornament for their teacher.  You can try to find something that reflects on the current school year memories.
Calendar
My daughter was in our local Down Syndrome Association's yearly calendar, so all of her teachers and developmental therapists received calendars that year as gifts!  They all loved that her sweet face was Miss November (and all the other precious faces in the calendar) and my purchases supported our local Down Syndrome Association!
Pay Close Attention
Try to find out if your child's teacher has a hobby or collects anything.  Does she wear a charm bracelet?  Does she have Willow Tree figurines on her bookshelves?  Does she have a collection of kitty cat magnets on her filing cabinet doors?  By paying attention to those subtle details, you just may find the perfect gift idea that is uniquely special for your child's teacher!
What about you?  What are you giving your child's teachers this year?  What special gifts have you given them in past Christmases?