Deciding to Start a Family
A reader asks The Mom Crowd:
"Mark and I are talking seriously about trying for our first baby and the thought of it is so overwhelming. I would love to know what other moms have been through, great resources to check out, etc. Another thing we are dealing with is different opinions on some parenting questions. I know every marriage is different, but it would be great to hear how other couples deal with differing opinions."
My husband and I did not agree on the timing of our first child. He wanted to wait longer and I was thinking, "I'm not getting any younger." Timing was the one thing we did not agree on. I remember praying that we would get on the same page and I just waited. About year and a half after we got married, we were at a fancy birthday/Valentines Day dinner we were talking about when to have kids. We miraculously agreed on a year and a half from that date.
Fast forward a year and a half and we still weren't sure if we were ready. We had some concerns about not being out of debt by the time the baby came so I could quit my job to be a stay-at-home mom. There was also the larger question of "are we ready for this?" Circumstances arose that helped calm our fears. While talking with his friend who had just become a father my husband realized, "He did it and he's still alive." Also, our best friends were about to try to start a family. So we took the leap and started trying. Honestly, that part was super fun. Two months later we were pregnant. I was vomiting all the time and the fun stopped, but we were excited about being parents. We weren't going to be completely out of debt by the time the baby came, but we trusted God that He would work everything out and He has!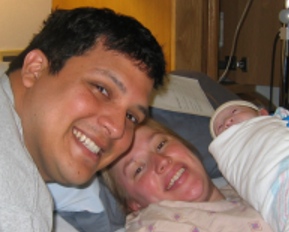 We didn't know how to address parenting questions until we were actually parents. We talked about parenting in our pre-marriage counseling, but had no clue about the feelings and emotions involved in these types of decisions. Each day together we are still learning how to parent Ace. The pre-marriage curriculum that we went through was called Marriage Savers. The couple that counseled us is still around and has three amazing grown children. We know that we can call them anytime we have questions about parenting. We often ask other parents what worked for them.
The decision for me to stay home came naturally for us, but I know it does not for other couples. Each couple has different opinions about staying home or working based on what their parents did. One spouse's mom may have worked and took care of the kids, so they set that expectation on their spouse. I believe some moms are meant to work and it does not take away from their role as a mother. Ultimately, it is about trusting what God wants for your family. If God called me to go back to work I would be there and I would trust that He would work everything out. We were able to have an open dialogue about the decision and eventually came to a mutual agreement.
We did have some financial concerns, but we got lots of advice to not let finances control our decision about when to start a family. I am glad I listened to that advice. I wouldn't trade our decision to start a family for anything.
How would you answer the reader's questions? How did you decide to start your family? Did you and your spouse disagree on any parenting issues and how did you resolve them? Do you have any resource recommendations?
Additional Resources:
Marriage Builders on How to Resolve Conflicts
Stay at Home Calculator on Parents.com
Articles relating to staying home on Babycenter.com
Chapter 6 of Financial Peace Revisted by Dave Ramsey. This chapter talks about the finances of a second income.