Decorating the Tree on a Budget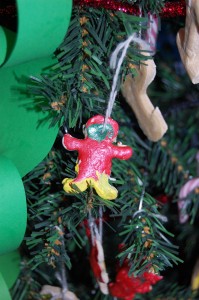 When we moved to England 3 months ago we left our Christmas decorations behind.  We are only planning on being here for 4 years and we live in a small flat with little storage.  We only brought the necessities and Christmas decorations didn't make the cut.  As Christmas was approaching the kids started talking about getting a Christmas tree and hanging up stockings.  My husband is in graduate school and we are living on a pretty tight budget. I didn't want to spend very much money on buying a tree, ornaments, stockings, lights etc.  We wanted to keep with tradition and make Christmas in England feel like "home" but spend as little as possible.
I asked my mom if she could find the storage box and send our stockings to us from the US.  She didn't want to mess with digging through our Christmas boxes so she generoulsy ordered some stockings online for the kids and sent them to us.  We bought the cheapest reusable Christmas at a store (costing $11!) so we can use it for the next 4 years, one strand of twinkle lights, and 2 boxes of candy canes.  Everything else we had at home.
Here is what we have on our tree:
Paper chains
Homemade salt dough ornaments painted by the kids
Candy Canes
Sparkley red ribbon left behind from the previous flat-renters
Twinkle lights
Stringed popcorn (still in the process)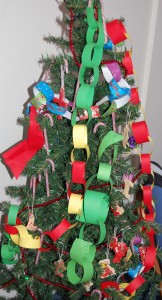 I like it when my tree looks pretty with full lights and is decorated with my pretty ornaments. But I gotta tell you, our kids LOVE their home decorated tree! They are so proud that everything on it is something they helped make or find in our flat to decorate it with. Our tree has lights on the top half and has ornaments unevenly distributed everywhere.  The paper chains are not cut evenly either.  But it has lots of flair and personality and it brings a smile to my face when I look at it.  We all worked hard to put our tree together and I love that they love it.
We spent very little money–especially since we can reuse everything except the popcorn and maybe the candy canes.  I have found that I don't need fancy decorations for Christmas to feel like Christmas.  Spending time with my family and remembering why we celebrate Christmas in the first place has been a great reminder for me this year.
What fun things to you put on your tree?  Favorite homemade decorations?  Best Christmas budget ideas?