DIY Bowling Game
As fall begins, many families are facing colder weather. This means we all need new ways to entertain the children inside on these cold or wet days.  Art activities are fantastic, but sometimes it is fun to be able to get some gross motor movement in! An easy indoor activity is bowling! Using items you have on hand, you should be able to have a set quickly. A hallway works the best for the bowling lane so that there is confined area to roll the ball in. Make sure you get any items off the floor that would get in the way of the game!
Where to Begin:
The first step will be to find bottles to use as your pins. I often have empty water bottles in the recycling, so that is an easy way to start! Using water bottles also saves the step of having to clean out the sticky soda or juice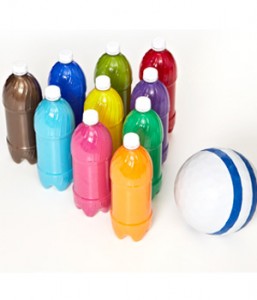 from the bottle. A traditional bowling game has 11 pins, but that can be too many for a small child. Starting with 6 is a good way to introduce children to bowling. A ball also needs to be found to knock the pins down with. It needs to have a little weight behind it to knock the pins down.
 The pins can be decorated or left as they are. A fun way to decorate them is to squirt a small amount of paint into the bottles, add a tablespoon or so of water and shake it together to coat the inside of the bottle. When it is coated, the excess paint can be poured out and the bottles need to dry overnight. An even more simple idea is to just wrap the outsides in a piece of scrapbook paper. This can also be an activity where each child gets to decorate pins themselves! Each pin doesn't need to match, so it can be fun!
We have found we like the pins to have some weight to them. This can be achieved by adding some rice or beans to the bottle. The amount will really depend on the skill set of children you are playing with. The great thing about the bottles is that you can empty out or add more filler as you play. They can be left empty as well. Water can also be used to add a little weight to the bottom.  Also, the weight of the pins may have to change depending on the ball that is used. A lighter ball will need lighter pins to be able to knock the pins over.
No matter what size bottles you use, or how you decorate, this activity will be a lot of fun for children. It really is a fun game to play with toddlers! Smaller kids are really fascinated with cause and effect. And this game allows them to safely test out those actions without breaking anything! Just make sure to  show your toddler how to roll underhand! This is also a great game to learn about taking turns.
Enjoy your bowling set!
Written By: Gena W., The Mom Crowd Contributor