How Long Should You Keep Your Child in a Rear Facing Car Seat?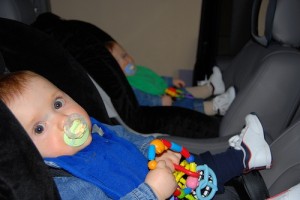 Should you keep your child in a rear facing car seat past the minimum requirement? The American Academy of Pediatrics currently recommends that "children should face the rear of the vehicle until they are at least 1 year of age and weigh at least 20 lb to decrease the risk of cervical spine injury in the event of a crash."
Last month the British Medical Journal published an article stating that  "rear facing seats are safer than forward facing seats for children under 4 years old." So parents should keep young children in rear facing seats as long as possible. The report goes on to say that "excessive stretching or even transection of the spinal cord can result if a child is involved in a head-on crash while in a forward facing car seat."
Car-safety.org explains that "rear-facing car seats spread frontal crash forces over the whole area of a child's back, head and neck; they also prevent the head from snapping relative to the body in a frontal crash."
In an article for ABC News Sharon Munns, injury prevention coordinator at the Mayo Clinic Trauma Center in Rochester, Minn. explains the benefits in more detail,  "The rear harness works in a way that allows the head, neck, and spine to move all straight up and down, so the body moves with the restraint of the seat, preventing crash-related injuries," she said. "In a front-facing seating, all of the body weight is going forward on the harness, which can cause injury to the head, neck and spine for children under 35 pounds. There are documents of spinal cord injuries because of children facing frontward at such an early age."
According to NHTSA, a rear-facing car seat is 71 percent safer than no restraint at all, and a forward-facing car seat is 54 percent safer than no restraint at all. So I think this means that your little one is 17% more safe in a rear facing car seat than a forward facing car seat.
Heather Corley, a Certified Child Passenger Safety Technician, says that some parents are concerned about leg injuries in a crash if their children's feet can touch the back of a seat. She says that, "While it's never fun to choose between injuries, the chance of full recovery is greater for broken legs than broken necks." She goes on to say, " Similarly, if your baby fusses while in a rear-facing car seat, it may seem easy to turn baby around to keep him or her happy. Again, though, you're choosing between a fussing baby or the chance of severe head, neck and spine injuries." Her advice is to keep your infant in a rear facing seat as long as the seat allows.
Your child may be in a rear facing seat until they are 30, 33, or 35 pounds or outgrow the height requirement of the seat. Car-safety.org gives some recommendations of which seats can be used for extended rear facing.  Also, here is a link to the AAP Policy on selecting car safety seats.
Will I Go Past the Minimum Requirement for a Rear Facing Seat?
Of course I am concerned for my child's safety. As with any parenting decision I  weigh the statistics and "expert" parenting advice with my own instincts and needs. My daughter wasn't 20 pounds when she turned a year old so we didn't let her face forward until a few months after her first birthday. My husband and I were excited to see her face while driving. She is now 2 years old and I like being able to see if she sleeping, reading a book, or whining about the sun being in her eyes. I like that I can reach back and hand her a drink or food.
My son is four months old and almost 17 pounds. He will reach the weight requirement well before he turns 1 year old. So depending on his size at one year I will consider keeping him in a rear faced seat, but I may face him forward. There are so many safety options and advice from experts that we can't keep our children safe from everything. I know that I can help the severity of an injury in an accident by changing the way their car seat faces. This is life and we all make our own parenting choices about our kids.
When did you move your child to face forward? Would you consider keeping them in a rear facing seat past 1 year old?
- photo courtesy of davidpb145