Is it necessary to be induced for Group B strep?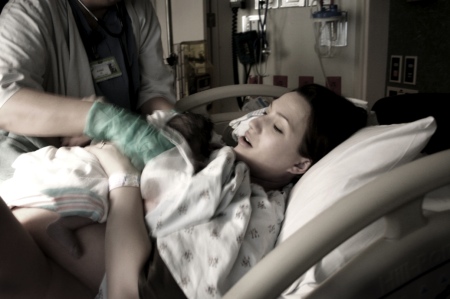 Let me start off by saying that I am not a doctor, midwife, or other health care professional. I am a birth instructor. One of the things that I focus on in the classes I teach is to educate couples so that they can make informed decisions of the issues facing them.
I recently saw one of those baby shows that come on cable. I have a love hate relationship with these shows because I see so many things that make birth more difficult for mothers but sometimes I see something really remarkable which in essence makes them worth watching. In the show I recently watched the doctor was talking to her patient and told her that because the mom tested positive for Group B strep (GBS) they would need to induce her and the words out of the doctors mouth were something to the effect of "or something really tragic might happen". I started talking to the TV and said, "Why is THAT a cause for induction?"!
The Academy of Obstetricians and Gynecologists (ACOG) officially recommends induction for a few reasons: Going past 42 weeks gestation, placental abruption, preeclampsia, an infection of the amniotic sac, and premature rupture of the membranes. Many women are induced for LOTS of different reasons than the ones stated above (I won't get into that during this post) but this was the first time I had heard of a doctor wanting to induce because a woman was GBS positive!
Group B Strep is a bacteria that healthy women carry in their intestines and vagina. It is estimated that 15-40% of women carry this bacteria. If a baby comes into contact with GBS he can become infected by the bacteria and it can cause serious illness, permanent damage, or be fatal. However, there is a very small chance that it will happen. There is a .05% chance that a baby will be infected by the bacteria. Although, half of babies that are infected have serious complications. The risks increase with prolonged rupture of the membranes by allowing the bacteria to travel upward into the uterus. One way to decrease this risk is to limit or only allow 1 or 2 vaginal exams. Some doctors and nurses like to do vaginal exams every hour but this is not necessary at all: it is uncomfortable for the mother, it can be disappointing to the mom to hear that she hasn't "progressed" in the last hour which can add to the emotional difficulty of labor, it increases the risks of infection, and it often leads doctors to use pitocin to speed labor up when a woman is just laboring at her own pace. If a mother has a fever during labor, this also increases the risk of GBS passing on to the baby.
Women should know that being induced has its own risks. Induction causes more painful labor and many doctors and nurses turn the pitocin up higher than manufacturer recommendations hoping that labor will go even faster. Because of the unnatural contractions that pitocin causes many women will opt for an epidural which comes with additional risks. Overuse of pitocin can also hyperstimulate the uterus causing the baby a lot of stress which can then lead to a c-section. Uterine hyperstimulation can also lead to postpartum hemmorage. It is also important to know that first time mothers who are induced are twice as likely to have a cesarean birth. This is (often) because their bodies are often not ready to go into labor and forcing it to happen can cause a domino effect of other interventions that can lead to a cesarean birth that could have possibly been avoided.
The standard of treatment for GBS is to receive antibiotics every 4 hours during active labor. You may be asking, "What if my labor is shorter than 4 hours?". If you are one of the lucky women to have such a short labor you will have to remember that most likely your water will not be broken for very long, you will have fewer vaginal exams, and because the labor is so short there less chance that the bacteria traveled up into the uterus to infect the baby.
You may be wondering if you can take antibiotics during pregnancy to kill the bacteria before labor. Unfortunately, the bacteria can come back. Some are concerned about the overuse of antibiotics and how taking them for GBS may be contributing to making bacteria resistant to treatment. The studies on antibiotic treatment for GBS vary. Some show a decrease of infection but not death. Some show no difference with or without antibiotics. Some have shown an increase of other blood infections such as e. coli. Antibiotic treatment does not guarantee that your baby will not get the bacteria passed to him.
Some women choose to go an alternate route and treat the problem naturally during pregnancy if they test positive during the 35-37 week screening test. Some naturopathic doctors recommend taking garlic, Vitamin C and echinacea. Ask a homeopathic specialist or naturopathic doctor for recommended amounts. You can ask for a rapid GBS test to be done while you are in labor to see if the bacteria are present and decide then if you want antibiotics during labor.
I have given you a lot of information about GBS and induction. In my opinion partaking the risks of induction to avoid passing GBS to a baby does not make any sense. It does not seem to me that getting induced would actually decrease the very small chance that a woman would pass GBS to her baby. Not only that but from what I have read, there are not any studies showing that induction decreases the chance of GBS passing to the baby. Weighing the options of whether or not to treat GBS with or without antibiotics is up to each woman. Weighing the options of getting induced is also up to each woman. I do not see how the two go hand in hand.
More Resources:
Gentlebirth.org (do a search on Group B Strep and/or induction)
Group B strep on Mothering.com (an article about whether antibiotics are necessary for group b strep)
www.childbirthconnection.org (do a search on induction or group b strep)