Living Without Toilet Paper?!
As someone who likes to live Green (I have much higher hopes that I will one day do much better than I currently am doing), I was recently challenged to try a new way of living.  Going paperless.  That's right, no disposable papers in the house.  Wipes, toilet paper, diapers, paper towels, kleenex, napkins, menstral pads and tampons….But one thing at a time.  It is overwhelming to try and do it all at once.
 We have pretty much been paper towel-less for a few years because we were given 2 bags of  microfiber cloths from Sams.  I pretty much use those for EVERYTHING.  The only thing I use paper towels for is to make bacon in the microwave.  It was an easy transition for us.  I also started using the Diva Cup a few years ago and have enjoyed that.  Disposable menstral pads drive me crazy and irritate my skin and I don't like the idea of using chemical products "up there." I haven't tried cloth menstral pads yet but I would like to try them as a back up to the Diva Cup.
 We have posted before about cloth diapers and the benefits but there are many other things we also can do to reduce our waste. I realize that this post will probably elicit verbal noises from you while you read it but it should make for an interesting, and hopefully not revolting read for you.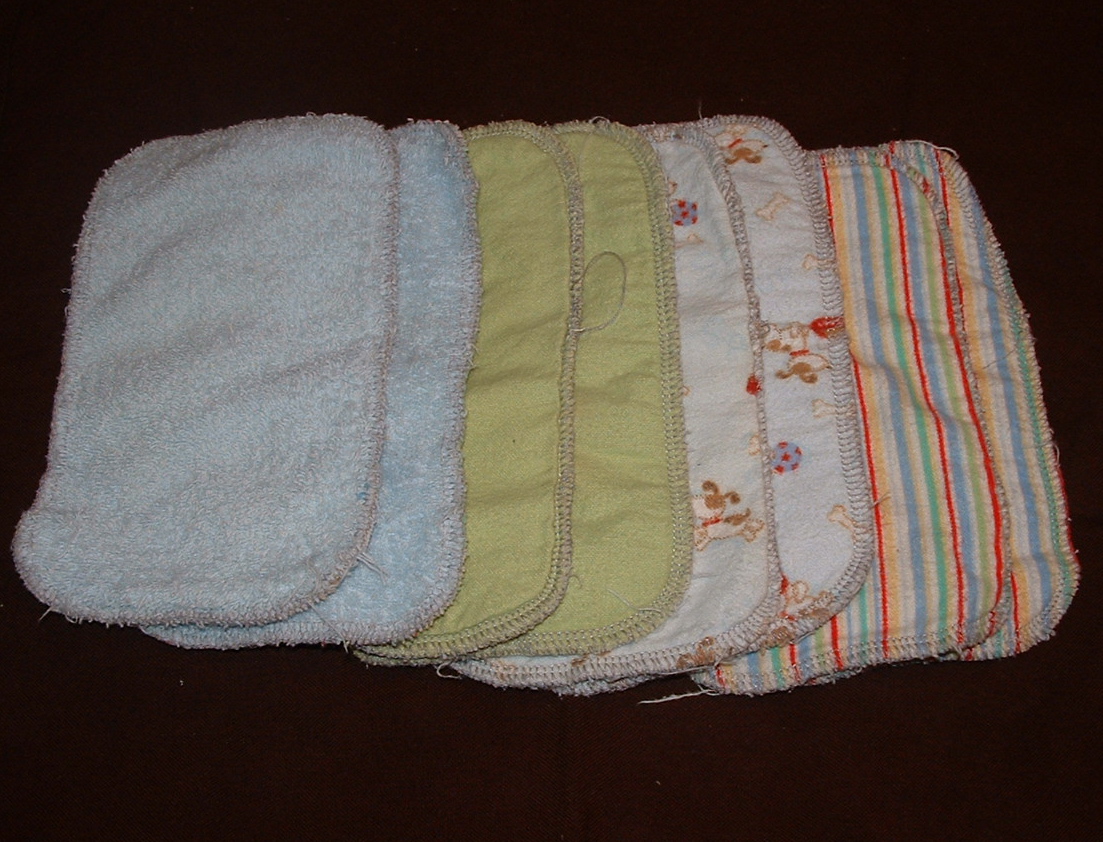 I recently read a post from another blogger who has decided to cut down on her toilet paper use by using cloth wipes instead.  
She is just using the wipes for pee and not poop.  As I was enjoying my time on the internet I went down some bunny trails to other bloggers who have also written ab
out going toilet paper-less.  One woman has a great post about what her family does and how her toilet paper-less system works (a lovely basket that holds clean pee wipes, a wipes warmer for clean poop wipes, and a dirty wipes bag).  She does keep a roll of paper t.p. on hand for guests who feel uncomfortable using the cloth wipes.    
 I have to admit, I was inspired.  Why use scratchy toilet paper when you can use soft flannel or cotton?  Why pay for something that can be washed and reused? I can use a small trash can with a lid to put the dirty cloth wipes in between washes. I could probably get a wipes warmer from Freecycle or Craig's List. I think cloth wipes are more effecient no matter where you are wiping. I use fewer cloth wipes than disposable wipes when changing a dirty diaper.  It might take a bit to get over the whole big kid/grown up poop thing…but how much different is it than using cloth diapers and wipes on babies and toddlers?  Not much, really.  And I have seen a lot of poop over the past 5 years. 
 We already use cloth diapers so what is a few more wipes to the laundry?   Making your own cloth wipes for baby bums or your own is not very expensive at all.  All you need is some soft flannel from the fabric store and a sewing machine.  You can read about how to make your own here and here.  The latter tells you how you can make your own by reusing all those extra flannel receiving blankets you got from your baby showers.   I am not much of a sew-er but I can definitely do that!
 When I told my husband about my new inspiration he gave me "that look" that said, WHAT?!  Really?  And then he said, "Um, can we talk about this later?  I think I need a little more time to digest another crunchy idea of yours." So, he's digesting and I am formulating how many wipes I think I will need to supply our family bathroom habits.  I don't know how much toilet paper your kids use but now that mine wipe themselves, we go through toilet paper like crazy and I am not too fond of jammed toilets.  I'm all for saving pennies–and time not spent unclogging the toilet.  
 My thought it that it might be a little extra laundry but the "nether-regions" of my family will appreciate the softness of the cloth toilet paper and I will enjoy not spending so much money on toilet paper at the store.  Just for fun, I also came across this: The Biffy.  When my husband saw that you could have your own personal toilet bidet he said,  "No way are we getting one of those!" I don't see myself purchasing a Biffy anytime soon. 
So, any thoughts?  Anyone want to join me in the change over from toilet paper to cloth toilet wipes? Tell us if it grosses you out or if you think it is something you might consider doing!