Making My Children's Sleep a Priority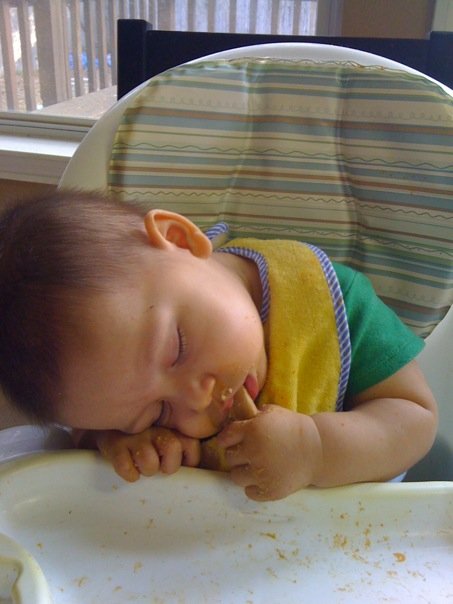 My husband and I are saying "no" to a lot of invitations lately. A few months after my first daughter was born I read "Healthy Sleep Habits, Happy Child" by Dr. Weissbluth and the book recommends maintaining a consistent bedtime every night. For the most part we do keep bedtime consistent. She goes to bed within 30 minutes of the same time every night. Then along came baby number two.
I love how newborns sleep through practically anything and sleep anywhere. Of course, I don't love their short erratic sleep schedule. Eventually newborns establish a bedtime on their own as they get older. Now at 7 months my boy starts giving sleep cues just before 7:00 p.m. and he is done for the day. He is ready to be nursed and laid down.
Maintaining a routine and a consistent bedtime has become even more important for us now that we have two kids. We realized this when we kept them up a little later than usual at a friend's house. My 2 year old could be entertained while at the house, but once we got home she fought being washed in the bath and cried a lot before she fell asleep. She was a bear the next day and tired at Mother's Day Out. That same evening I was holding and bouncing my son to keep him content. He kept bobbing his head on my boob to nurse. Then he screamed in the car on the way home. My children were put to bed 1.5 hours after their usual bedtime. My husband and I definitely agreed that the cost of keeping our children up late wasn't worth the price.
Now in the evenings only one of us will go out at a time. We could hire a babysitter, but that isn't practical all the time. It is certainly a special treat for both my husband and I to be out together past 7:00 p.m. Many times we have to say no to events that start at 7:00 p.m. It is just the phase of life we are in. I know it won't be this way forever.
On the other hand, we love the early bed time. We have a great time hanging together around the house and creating date nights at home. I appreciate the break from my children. I also love that my children are well rested and behave better the next day. Our whole family is better for them getting their sleep.
How about you? Do you notice a difference in your child's behavior if they have a consistent bedtime? Have you had to turn down invitations, because they are past your child's bedtime?
*P.S. That is my boy in the photo. He fell asleep eating his teething biscuit at dinner! Maybe he wasn't that well rested that day. LOL.