Meal Planning is Annoying but Worth It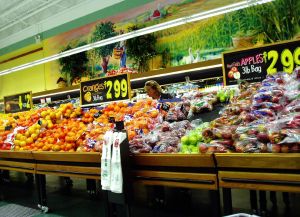 Now that I am a stay-at-home-mom and I don't generate a paycheck anymore, I feel like the way I contribute financially to my family is by managing the budget. The biggest budget items that I have control over is our Grocery and Dining spending.
Before I go to the grocery store I create a list, because I will completely forget it all while I am constantly trying to keep my toddler entertained and seated in the cart. To make my grocery list I first check the sale ads online. Then from there I think up 4 to 5 meals based on what is on sale, what we already have on hand, and what we feel like eating. Then I make sure that any ingredients I need are on the list.
My family works on a cash envelope system for groceries and it works. It gets filled twice a month and it is easy to see when we only have ten bucks to feed us for the next three days. Then I know we might be having breakfast for dinner one night. It also took us a couple of months of tracking where our money goes to determine what to set the monthly amount for our groceries.
I have recently discovered that there is a whole world of frugal mommies out there blogging about sales, what they spend, and how they create meals.  A few of these moms buy in bulk or stock up when things are on sale. They also buy meats on sale and freeze them. If what I need is on sale, then great, if not then I'll live. I know I could be even more frugal and think ahead better, but I don't know that I want to spend time thinking that far ahead.
Our cash system based around sales and cheap meals works for us.  What I want to know is how do you manage your grocery budget? Do you buy in bulk and stock up on sale items and is it working for you? Is it a lot of work? Do you stress over your grocery bill?