Motherhood in 6 Words: Let's Get Creative!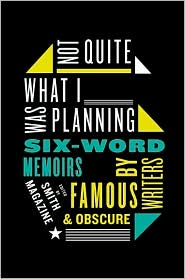 One of my friends, a mother of two, recently posted on her blog about how she was inspired by a book entitled Not Quite What I Was Expecting: Six-Word Memoirs by Writers Famous and Obscure.  You simply write a statement about life in six words.  My friend decided to do several about motherhood.  Here are a couple:
No thanks. I'm good with two.
When do I get adult conversation?
I thought it would be a fun exercise for myself (and for you!) to try cranking out a few of these before we jump into the weekend.  Here I go, and these are completely off-the-cuff:
Lucy is such a cute name.
When will he quit his pacifier?
My little boy's initials spell "EAR".
Time goes quickly when they're tiny.
I'll blink and she's in college.
Hand-me-downs are great for small budgets.
Thank God for Target's red stickers.
Potty-training is my least favorite part.
I should go to bed early.
Wow.  I've gotta say, once you get going, it's hard to stop!  This would be a fun little activity for a baby shower (but then, I was an English teacher, so maybe I'm just a nerd.) Care to add your own?  Hit comment and have at it!