Munchkin Designs Personalized Frames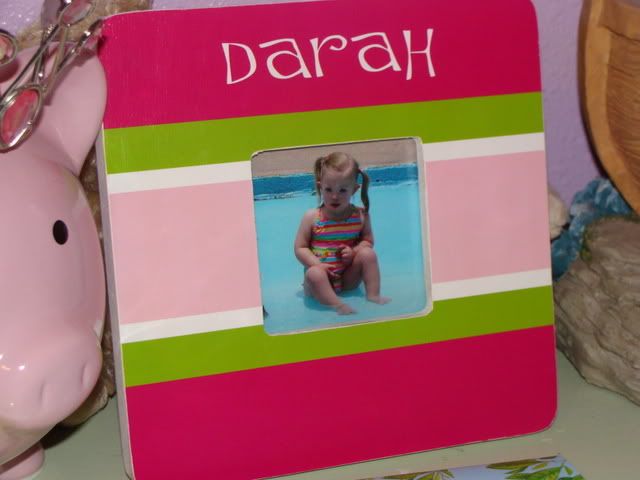 I received the most adorable personalized frame from Munchkin Designs! The owner, Lisa Komer is very talented and her products are unique, personal, and custom. Her products include picture frames (like the one I received), stationary (note cards, invitations, holiday cards, birth announcements, etc.), canvas art, albums, journals, artfolios, "birthday-in-a-box," and she will soon be selling Big Sister/Big Brother gift sets. You can join her mailing list to be notified of all of her up and coming products.
The frame I received is great quality. I love the vibrant colors and love that it's personalized. Darah loves it as well! Our frame arrived packaged very safely. My husband even commented on how much he liked the frame and mentioned that he liked that the glass was "real glass, and not that plasticky film that comes with most children's frames." Lisa's follow-up on her orders is excellent. She sent me an email confirming that I received my order. These frames are a great way to accessorize your child's room! They also would make excellent gifts for baby showers or birthday parties!
If you've read our blog for any amount of time, you probably have figured out that I'm all about anything that helps further medical research. Munchkin Designs tugged my heartstrings when I learned that 10% of all profits are donated to the Leukemia and Lymphoma Society. She has a very special card designed specifically to raise awareness and further research on blood cancers. Half of all purchases of these cards are donated to the Leukemia and Lymphoma Society through August 31, 2008.
If you've been reading our blog, you probably have also learned that I also am a sucker for discounts! Munchkin Designs is offering The Mom Crowd readers 15% off of all frame purchases. Her website is being redesigned and will soon be taking online orders. In the meantime, to receive your 15% discount, email your order to lisa@munchkindesigns.com with the discount code: MC2008. This discount is good through April 3, 2008!