Other Fun Days To Remember in December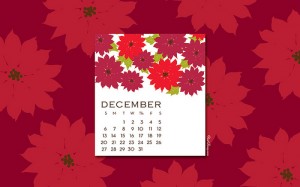 While Christmas is by far the most important holiday in December, there are a few other fun days you can observe with your kids during the month.  Participating in these days and observances can add a few extra ideas for crafts and learning projects.
Read a New Book Month – So this one is pretty self-explanatory.  Pick up a new book and read it with your kids.  If they are old enough for a novel, choose a classic, like Charlotte's Web.  Or better yet, find a great Christmas book to share with your kiddos.
National Cookie Day (December 4th) – What a great way to have fun… bake and eat!  Even the littlest member of your family can help decorate cookies and you can teach the older kids about measurements by letting them measure out sugar and flour. 
Saint Nicholas Day (December 6th) – Saint Nicholas Day is a fun way to talk to your kids about the generosity of others and to teach them about how Santa Claus came to be.  Have fun reading 'Twas the Night Before Christmas  (or originally written as A Visit From St. Nicholas) with your family to give them an even more fun idea of Santa. 
National Poinsettia Day (December 12th) - A fun way to teach your children about this particular species of plants is to visit a nursery where they can see the different colors that poinsettias come in.  They can come in orange, pink, pale green, white and cream as well as the traditional red.  Create craft projects to decorate your house for Christmas or buy some real plants.  Just remember, if you do use the real kind, keep them away from your pets and children's reach, as they can be poisonous.
Wright Brothers Day (December 17th) – Teach your children about the history of aviation by telling them of the adventures of the Wright brothers.  Visit the official Wright Brothers museum site for more information.  Craft ideas can include making paper airplanes, putting together a model plane or just coloring or painting them. 
First Day of Winter (December 21st) – Don't forget to explore all the wonders of winter on the first official day of the season. 
Visit the Zoo Day (December 27th) – If you live in the south, take advantage of the nice cooler weather to visit your local zoo.  December 27th falls on a Sunday this year, so most likely your family could all go together as a big family outing, grandparents included!
While I absolutely LOVE Christmas, there are definitely times when I feel like my kids can get "Christmas'd out" and that it's a good idea to mix things up a little!  Have fun, explore the history behind some of these days and take the time to enjoy the month!
Do you celebrate or observe any of the above days?  How do you do it?  Do you have other specific days that you remember and honor? 
Photo Courtesy of redstamp.com