Potty Trained When Home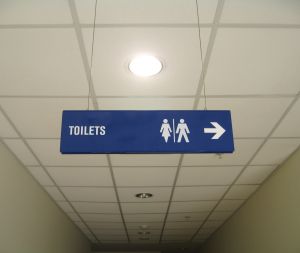 My philosophy on most developmental milestones is, "wait until they're ready and it'll be a whole lot easier."  I have not always had this philosophy, but I've learned that racing to the next stage too early is very frustrating for me and for my child. One of my friends wisely told me that there are two things you can't force a child to do. You can't make them eat and you can't make them use the potty.  Children will learn very fast that they have complete control over those two things and the power struggle is inevitable if you push too hard.
We have been doing a lot of potty exposure in my house.  My first child has special needs and went through a period where we thought she was ready to be potty trained, but she isn't, so we are still exposing her hopeful that she'll start being ready soon.  However, through all of this exposure, my two year old son has become very interested in the potty.  It got to the point where he would go pee whenever I put him on the potty.  I decided that it was time to say goodbye to diapers.
We woke up one morning, I showed him his brand new Thomas the Train underwear and told him that he was a big boy and he was going to keep his undies dry by using the toilet whenever he needed to go potty.  Every 30 minutes I took him to the potty and he did his thing proudly.  He was motivated to use the potty with the promise of washing his hands when he was done.
We are now about a week and a half of being accident free at home. Sometimes he does not want to go when I tell him it's time to use the potty, but I gently explain to  him he can continue his activity once he goes potty.  He has been very compliant.  He still needs to learn how to poop in the toilet and I am hoping he will begin to tell me when he needs to go instead of needing reminders.  I am also going to get over my fear of accidents in public and start keeping him in his underwear when we leave the house.
Potty training my son so far has been a very easy feat.  I really believe that it is because he was emotionally, physically, and behaviorally ready for this milestone and it was never something that was forced on him.  It sure feels good to only have 2 of my 3 children in diapers!  I am hoping that he will rub off on his big sister and she will start showing an interest in becoming potty trained.
Do you have a more laid back approach like I do or do you have a different approach?  How have you encouraged pooping in the potty and spontaneous potty usage instead of needing reminders?  Are you afraid of public accidents like I am?