Product Comparison: Double Strollers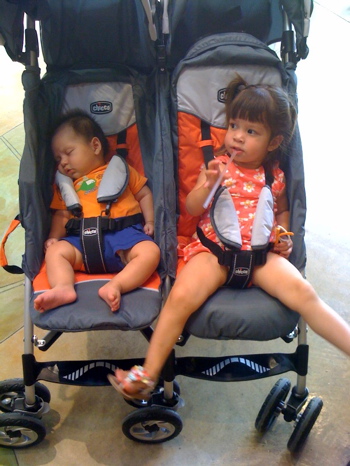 Now that I have 2 children 22 months apart I have been pining for a double stroller. I have tried to get by without one for as long as I can with various strategies. One way is putting my 3-month-old son in a Baby Bjorn while pushing my 2-year-old girl in our huge Graco stroller or in an umbrella stroller. Another way is pushing my baby in his car seat on a travel frame stroller and chasing my daughter. Going out has been difficult! We had 3 different strollers in my car: 1 small umbrella stroller, the huge Graco travel system stroller, and the travel frame. I wanted to only have 1 stroller to fit my needs. I decided that it was time to put some cash down on a double stroller.
There are so many factors to consider before buying a double stroller. No double stroller is perfect. You just have to pick one that is closest to your needs.

New or Used?
Buying a used double stroller can be a great deal if you can find one that is in pristine condition. I had three friends tell me that they had bought used double strollers and found that the wheels stuck and didn't ride smooth. I also searched Craigslist every day and even placed a "Want to Buy" ad, but never found what I was looking for. I could have bought a nice used one from Ebay, but we are going on a trip and I didn't want to wait for it to be shipped.
A new double stroller is clean and has new wheels. I plan to use my stroller for a very long time, so I felt like I would get my money's worth with a new one.
Side-by-side or Tandem?
My friend, McKenna, has used both a tandem and a side-by-side. She said that the child in back of the tandem couldn't see and didn't like sitting back there. Although, it was nice and compact. A side-by-side allows both children to see and be next to each other. I know that my daughter loves being next to her brother, so I felt like she would love it more than a tandem.
Jogging Style or Umbrella Style?
This is just a matter of preference. Where are you going to use it more? A jogging stroller is great for running, parks, the zoo, and amusement parks. Jogging strollers can also take up a lot of room in the truck and be heavy. An umbrella style is great for shopping and doctor office visits, but can also be used at parks and amusement parks. I didn't want a huge jogging stroller and felt like I would get more use out of the umbrella style. I like the lightweight compactness of the umbrella style.
A Checklist to Consider When Shopping for Double Strollers
How easy it can break down and set up
The weight of the entire unit
The room it will take up in your trunk
The maximum weight the stroller can carry
Storage pockets
The number of sitting positions
Durability. Does it have a good reputation for lasting a long time?
Price
3 Strollers That I Considered Purchasing
Peg Perego Aria Twin Stroller – $339
A mom of two sets of twins in the store told me that she had used this stroller. The wheels got stuck often. Also the plastic piece that opens the stroller had broken off on a tarmac and airport staff had to find it. The sales guy at Babies R Us also immediately said that this was a horrible stroller, because it is made of cheap plastic and was not worth its expensive price tag.
Maclaren Twin Triumph Stroller – $265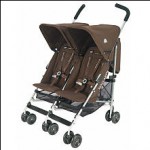 The Mac Daddy of aluminum double strollers, this pricey double stroller is incredibly durable. It also has the smoothest ride of all umbrella double strollers. The 5-point harness is easy to snap together. Also the straps are made of a soft material  which is nice when rubbing against skin. The bottom strap is thin and while it held my 3 month old fine, it didn't look very secure. The maximum weight is 110 lbs which means it could last a very long time as your children grow. The pockets in back are also nice, because they have a velcro lid to secure the contents in the pockets. One friend complained that it isn't easy to set up, but you can get used to it. Also, I think you have to use your foot to pull up on a pedal to break it down, which may hurt your feet if you wear flip flops often. The sleek, simple design is nice.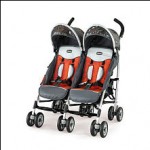 This stroller weighs 24 pounds (the weight of my toddler) and is easy to set up and break down. To break down you have to step down on a pedal and pull up two handles. The downside is that it only clicks together on one side when folded, so the other side hangs open a bit. This isn't really a big deal, because the handle to carry it is on the side that clicks together. This stroller also has 4 adjustable positions. I liked that the bottom strap of the 5-point harness is very wide securing in a little baby. It also comes with a boot that folds out to give further security to holding a newborn. The shade doesn't cover much. The pockets underneath and in the back are adequate. Also, the ride is smooth enough. It is quite comparable to the MacLaren Twin Triumph.
We ended up getting the Chicco Trevi Twin, because it was marked down to $169 from $229. We couldn't justify spending almost $100 more on the MacLaren. We immediately used this stroller after purchasing it this weekend at an outdoor mall and got many looks and a compliment. It is so convenient to have them in one stroller! A bonus is that my husband likes to push it, because the handles are wide apart and they are comfortable for his broad shoulders and his height.  I am in love with my new double stroller.
Do you have a double stroller? Which one? Do you like it? What did you consider when purchasing a double stroller?