Read This Week: 5 Bloggers in India With Compassion International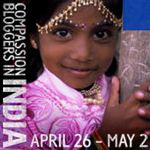 This week Compassion International sent a team of 5 bloggers, 3 leaders, and 1 photographer to Kolkata, India (used be called Calcutta) to write about their experiences at Compassion International projects. These bloggers are witnessing extreme poverty, unclothed children and what the face of hunger looks like.
It is easy for us to look away or count the poor as a statistic. We feel helpless to cure poverty and to fill a little belly on the other side of the world. I would like to challenge you to follow and read the words of these bloggers everyday this week.
You may not be able to go to India yourself right now, but you can experience this amazing trip through their eyes. Mission trips to serve the poor change your life forever. Let the words of these bloggers change your world view. You may come to be thankful for all that you do have, you may feel compelled to support a child, or you may see miracles this week.
Click here to follow every post of each blogger here on the Compassion International website. Check it every day and walk with them on this incredible journey in India.