Supporting Breastfeeding VS. Promoting Breastfeeding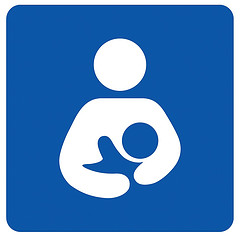 There is a great discussion over on PhDinParenting.com about breastfeeding and blogging about it. After reading PHDinParenting's post and the comments I believe that there is a difference between supporting breastfeeding mothers and promoting breastfeeding.
Supporting breastfeeding mothers is encouraging moms in the decision they have already made. While promoting breastfeeding is trying to encourage new moms to breastfeed even if they don't want to. My hope is that I can encourage those moms that want to nurse or are nursing, because breastfeeding moms need encouragement.
There is not a lot of support for new moms that want to nurse. I needed encouragement.
Older generations didn't breastfeed and my mom doesn't encourage me.
My former Pediatrician wasn't active in supporting me.
When I left the hospital with my first child I was given a diaper bag sponsored by a formula company loaded with formula in it.
While outprocessing the nurse gave me a long speech how I was going to have to give my baby formula at some point. Now that I think back I may have made every effort to nurse my first baby without ever giving her formula just to prove that nurse wrong. And I did. Now I wish I knew her name so I could tell her she was wrong. I guess my personal challenge didn't matter in the end. Ha!
The truth is that breastfeeding is dang hard. It took me 3 weeks with my first baby before I didn't have any pain nursing. With my second baby I thought the pain wouldn't last as long since my boobs were used to it and I knew what I was doing, but I was wrong. I still had immense pain for the first 3 weeks. I called a lactation consultant and she told me that I was doing everything right and that it would get better. Thankfully she was right, but I needed to hear that encouragement from a Lactation Consultant at that time.
I am currently nursing my 10 week old and it isn't easy to watch my diet. I stay away from caffeine and alcohol and I try to eat healthy. My second baby is a boy and nursing a lot and that makes me really hungry. Since I am eating extra food, I am confused on how I should diet and exercise to lose my baby weight. I would love to have my body be mine again, but the trade off is worth it. If I didn't believe that breastfeeding was better for my baby then I don't think I would do it.
Breastfeeding is not always encouraged by professionals or older generations. Learning to nurse is difficult, time consuming, and can be inconvenient. My aim is to encourage my friends and those who ask for my help and support in their breastfeeding efforts. It is never my intention to always promote breastfeeding to those that choose formula or to judge them. I may look at them funny while I am observing what they do, because formula is foreign to me and I am watching and learning in case I ever have to do it one day.
One way that I like to support my friends in breastfeeding is by giving them a Brestfriend Pillow as a baby shower gift along with a copy of an article that I wrote titled, "7 Things You Should Know Before You Start Breastfeeding."
Other ways to support your breastfeeding friends:
Be a listening ear when they are going through the first few tough weeks.
Encourage them to see a Lactation Consultant if they need help.
Don't be weirded out when they nurse in front of you.
Share about your own breastfeeding experience.
Buy them a nursing cover for a baby shower gift.
Have you ever encouraged a friend that wanted to breastfeed? Has breastfeeding vs. formula feeding ever came in between a friendship?