Thumb & Finger Sucking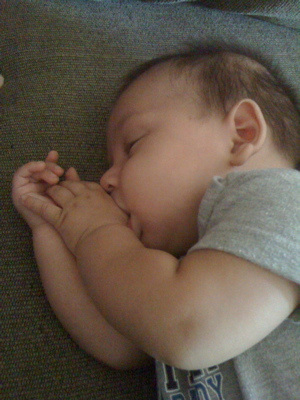 Both my children suck their thumb or other fingers. My 2 year old daughter, Annabelle, sucks her 2 left fingers upside down while her right hand holds her ear. My son, Roman, is only 4 months and he sucks his left thumb. Occasionally he will also hold his ear while sucking his thumb. I suspect this is because he is trying to copy his big sister. While finger sucking can be a problem in later years, I am thankful that they have found a way to comfort themselves.
A lot of my friends who have children that suck their fingers also breastfed their babies. I asked my pediatrician if she noticed that it was more common in breastfed babies and she said no. So what form you choose to feed your baby doesn't determine if they will find comfort in their fingers or a pacifier.
Don't Worry
When Annabelle first started to suck her fingers I got really worried and looked up the topic in my What to Expect the First Year book. The book said it wasn't a big deal and that it shouldn't affect her teeth, so I stopped worrying about it.  This article on Baby Center also says not to worry about it.
Of course there are many pros and cons to thumb/finger sucking. I don't have to keep track of a pacifier or put it back in when it falls out while sleeping. My child can soothe themselves whenever and wherever they need it. I do have to wash my daughter's hands often, so she isn't sucking on dirty fingers. I also try not to use hand sanitizer, because I don't want her to be sucking alcohol off her hands. When she was smaller I used to encourage her to suck her fingers when she was upset or about to fall asleep. However, you can't force them to find comfort in their fingers if they don't want to.
So when should I be concerned about my children sucking their fingers?
The American Dental Association says:
"Most children stop sucking their thumbs or other fingers on their own between the ages of 2 and 4 years. The behaviour lessens gradually during this period, as children spnd more of their waking hours exploring their surroundings…If a child does not stop on his or her own, parents should discourage the habit after age 4 years."
I can already tell that my daughter is sucking her fingers less and less. It usually only when she is watching television or going to sleep. I am hoping that it will end on its own. Even Dr. Greene thinks it can end on its own.  I want to tackle potty training, before I take on another problem.
How do I help my child stop sucking their thumb?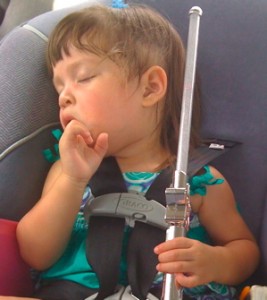 eHow.com has 6 different articles on how to teach your kid to stop sucking their thumb. There are a variety of tactics and tools you can use such as: explaining how it damages teeth, using bad tasting substances, thumb guards, distractions, band aids, and sticker charts. My old pediatrician said that instead of pointing it out that you have to praise them when they don't suck their fingers.  As with any parenting decision you have to find the one that works for you and your child. Just remember that breaking a habit can take a while, so be patient!
I don't think my 2 year old even knows what she is doing when she does it, so I can't start the process to stop her yet. I am not ready to tackle problem either, so for now I am letting her enjoy the comfort of her two fingers.
Have you helped your child stop sucking their fingers? If so, how? Are you concerned about your child's finger sucking?