Website Review: Mom Blogger's Club

If you are mom and a blogger then you should definitely take a peak into the clubhouse of the Mom Blogger's Club (MBC) and go on in. I have been a member for over three months and it is a great place to ask questions and meet other bloggers. The Mom Blogger's Club is the social network arm of The Mom Salon and is founded by Jennifer James. I have had a little bit of personal correspondence with Jennifer, read her blog posts and her participation in the club and found that she is one of the most encouraging and unpretentious bloggers I have ever met.
The Mom Blogger's Club allows you to have your own profile page where other moms can leave you comments and you can share news and post pictures and add friends. In the "We're Talkin'" section there are general questions that are open to anyone to answer. You can also join groups or start your own group based on your specific interests.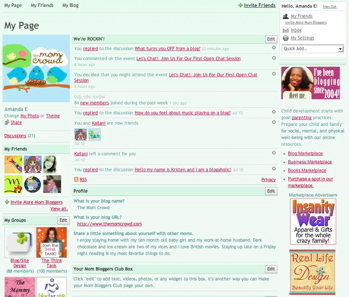 The members in this community are very active. If you ask a question, you will almost get an answer within a day. Also, you will get quality answers. Some questions are asked within a group and you have to be a member of that group to answer the question. All you need to do is click "join this group" unless the group is closed. The questions are about everything blogging like who designed your blog, what turns you off on a blog, and what your husband or significant other thinks about your blogging. There is also a section about Motherhood, Parenting, & Family.
The design of MBC is incredibly easy to navigate. Their front page has a lot of information without seeming to be cluttered. I found it simple to set up my account and to start meeting other people.
In some networks I have felt shy about sending friend requests and "adding friends," but I don't find that here. Most people are willing to help you and be your friend. It is up to each of us how much we want to network and connect with each other. Even if you don't ask questions or add friends you will still learn a lot about blogging from the discussions.
Note: You must use the "www." when typing in their url (www.mombloggersclub.com) or you won't be able to get to the site.
Are you a member of Mom Blogger's Club? How do you like it? Are you active? Are you sick of joining every social network under the sun?