Babies do not generally require high chairs until they start to eat solid foods. For most infants this happens around six months (or thereabouts). Even before babies start throwing food from the tray of their chairs, high chairs can make it possible for a little one to spend quality time with other family members at the table for a meal. Babies often enjoy being included in meal times with other household members.
Your infant's first chair is his or her high chair. The purchase of such a chair is very important. You may wonder what you need to think about when it comes to making such a significant purchase for your baby. After all as a parent you cannot try it out for yourself as you might a new sofa or loveseat because the fit is not quite right for you! Just as you need to consider a variety of factors when you buy a crib or a car seat for your baby daughter or son there are numerous things to think about before you make a high chair purchase. Here we look at those factors for you to bear in mind:
Know what your budget is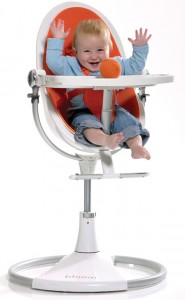 Your finances should not be the only deciding factor for the type of high chair you buy your baby but they must be one factor. The range of prices for high chairs is vast which is why it helps for you to know how much you can and cannot afford for this purchase.
In that way when you go shopping you will be able to zero in on the chairs that are most fitting for your budget and this will save you time. Ask others such as family members and friends what high chairs they can recommend to you. Other new mothers would be one of your best sources for finding the right chair for your baby!
Safety and security should be a top priority. Only purchase a high chair that you feel completely confident about when it comes to your baby's safety and security. If you find one that you are just not sure about then keep looking. You need to find a chair that is strong and resilient.
It must be able to resist your baby pushing against it, rocking it and even kicking it. It must securely fasten into place when your baby is seated in it. It should be as steady as possible and should not wobble. To find a safe high chair you need to look to a quality brand. It is an investment that is worth it for the sake of your sweet little one.
Be mindful of the height of the chair. You want the high chair to be at a comfortable level for you to feed your baby, whether you are standing, sitting or bending over the chair. For this reason you should take a height measurement of our table before you go shopping. An adjustable high chair is a good idea but you must ensure that it is secure before you buy it.
Consider the size of the tray
All high chairs have trays but they do not all have the same size trays. Food will fall from the high chair onto the floor no matter what you do but the larger the tray the less food is likely to end up on the floor. Decide what size tray is best for your baby before you start looking.
Ease of use and convenience makes a difference
Let's face it some baby furniture is not so easy to use and that is not what you want. As a mother you want a chair that is lightweight and easy to move around. You also want a chair that you can get your baby in and out of as easily and as quickly as possible. If your little one is crying and you want to get him or her out of the chair as fast as you can the last thing you want is to have to struggle with a complicated chair!
This will cause more stress for the both of you! If you travel or plan to take the chair with you go to visit family members then you need a chair that is easy to lift and put in the car.
Consider the lasting quality of the chair.
You want to buy a chair that will serve its purpose for your baby until he or she outgrows it. If you plan to have more children then the longevity of the high chair matters. If you can reuse it for your future babies then this will save you money in the long run.