Making Time for Yourself When You are a Busy Mom
When you have children to take care of, laundry to do, meals to prepare and your job to go to it can be difficult (well downright impossible sometimes!) to make time for yourself and your own needs. Finding the time to get your hair cut, working in your flower garden or even sitting down to have a couple of sips of tea and read a few pages in a novel can be beyond the scope that your schedule allows. It is important though to find "me" time in your busy "mom" days.
Why is it so Important?
Making time for yourself is important because if you do not then you can become overwhelmed, stressed out and exhausted. You may even end up feeling angry because you are neglecting yourself. If you can find a few minutes every day to relax and do something nice for yourself then this can be very good for your emotional and psychological well-being. Even if it is not every day, as often as you can you should look for opportunities to make time for yourself.
Find the Time Whenever You Can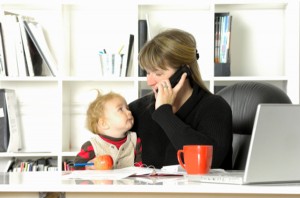 You need to find time to be good to yourself whenever you can find it. Perhaps it is later in the evening after your children have gone to bed. Or maybe it is first thing in the morning before your children have gotten out of bed. Enjoy a cup of tea or coffee and the silence of some uninterrupted moments before the day takes hold. Or maybe it is when your six month old is napping, in between doing laundry and washing dishes. The point is make every moment count in your day-to-day schedule and find a few precious minutes wherever and whenever you can in your hectic day to do something just for yourself. Even if you stop for five minutes to put your feet up and daydream as you look out the window, that is still precious time for yourself – and it matters.
Me Time Options for Moms
When the weather is good and your children are at school, or at grandma's or are visiting a friend take a stroll around your neighborhood or through a local park. Be leisurely about it and pay attention to all of the beauty that surrounds you. Breathe in the fresh air and enjoy those moments of being alone with nature. Okay, so maybe the dog needs to be walked so you choose to combine his walk with your alone time and maybe you are walking in a dog park instead of the local park. At least you are out walking! Whatever works for you is fine as long as you get to relax your mind and body a bit and get away from some of the stresses of the day.
Regardless of whether you work inside or outside of the home you need to take breaks. Whether it is a break from your computer or your kids wanting your undivided attention you need to take mini breaks throughout the day to keep your sanity. Maybe you can retreat to your favorite chair and flip through a magazine or call up a close friend for a quick chat. Or maybe you can spend a few minutes working on a craft, skimming the newspaper or glancing at a television program that you enjoy.
When you have a larger block of time for yourself, such as if your husband takes the kids somewhere for an afternoon then pamper yourself because you deserve it. Go to the beauty salon and get your hair styled differently, get a manicure, a pedicure, a facial, or a massage. If one of your friends is free then make it an outing for the two of you. While you are at it the two of you should catch up over coffee or lunch.  As a mother you are probably so use to treating your loved ones that you have forgotten how good it feels to treat yourself. It is time to remember it now!