Working as a Family to Save Money
When you work as a family to save money, you not only teach your children the value of saving, you also teach them that a family should work together and have good communication.  Teaching the value of money will benefit them long into adulthood.
Most children are not in a position to earn income from an outside source to help with the family's financial plans; their involvement will largely be in the saving money through making good choices and helping to find deals when shopping. This is still a great way to add value to their skills buy teaching them there are many ways to save money everyday.  The last time my family got together to brainstorm ideas on how to save money, we came up with several relatively painless ways to reduce our expenditures.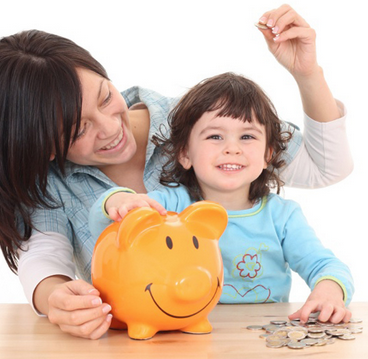 Buy and sell consignment items
Some towns and cities have consignment stores where people can take their used (but still in good condition) items to a storefront where they are priced by the store manager and offered for sale at the store. Sometimes consignment stores have special niches. Prices on the items in the consignment store typically are lower than the retail price but if it is a lightly used item, you can still get a good amount of cash back.
Play It Again Sports consignment stores are often the first stop for parents to go when they need to buy sports equipment for their school age children. It is a great way to save money on what kids need and also sell items that they have outgrown.  You can find just about any type of sports equipment lightly used.  This will save you tons of money.
Other consignment stores will specialize in baby gear or toys. This is a great place to find baby items, kids clothing and even baby gear like playpens and riding toys.
Check for coupon codes and special promotions
When you are planning a party, looking for school supplies or other household items you can grab great deals by ordering them on line.  Sometimes special coupon codes are available only to their registered Internet customers.  We love to order small holiday gifts, holiday decor, art supplies and even party supplies from online companies like Oriental Trading Company.
Creating an extra free email account that you dedicate to using for signing up for their email marketing messages that you receive will allow you to keep an eye on the latest promotions. These coupon and promo codes are to be entered during the check-out process by the customer.
You can also join Groupon and other services that offer you deals on things to do with the family and services you might need.  You may have to choose from a small list of options but you will save money for taking advantage of the deals!
Shop at local thrift stores
Another popular resource for buying inexpensive clothing and household items is the  thrift store.  A thrift store is different than a consignment store. The items for sale in a thrift store are usually donated to the store and the entire proceeds remain with the organization that runs the thrift store.  You can find great, lightly used items for less than retail.
Try Bartering
This is the way many people used to to business.  You find someone that needs a skill that you have and you trade.  Maybe your kids help mow an elderly neighbors yard in exchange for getting to use their pool once a week during the summer.  It can save you money and teach the kids the importance of working for something.
You can also teach older kids to trade things like babysitting services for a hair cut or the use of an Internet connection.  You might have to be creative, but bartering is a great way to save money and get things you need and want. Everyone has a skill, you just have to find the right person to trade them with/
Be Open to Trying Something New
As families adjust to the new economy, where job security is non-existent, and consumer debt keeps rising, parents need to spend extra time looking for ways to maximize their spending power. Bringing children into the process with brainstorming ideas, making plans, setting goals, and establishing rewards will help the entire family to survive these unpredictable times. The skill sets and habits that are learned through this process will teach every person involved better ways to utilize resources available to the family.